Recent Projects:
The Joneses - Score Mixing
I Love You Philip Morris - Score Mixing
Waiting For Forever - Score Mixing
Pink - Mixing and Overdubs
Uh Huh Her - Tracking and Mixing
Jenny Lynn Smith - Mixing and Overdubs
Goodbye Elliott - Tracking and Mixing
Sam Beeton - Mixing
Livingston - Mixing
This World Fair - Mixing


Westside Pacific Studio is a state of the art one stop recording and mixing facility. From writing to tracking and mixing our facility is designed to produce and deliver anything you can dream of.
Our team of talented engineers, producers, mixers and songwriters know what it takes to achieve the best results for your project, and the facility is fully equipped to handle all aspects of recording.
The studio consists of a main mixing room that doubles as a live room for tracking drums. The design of the room is modular so that it can easily transform into an environment suitable for tracking or mixing. In addition there are two overdub booths, a kitchen featuring an editing suite, and a full bathroom for extended stays on the queen size pull out bed.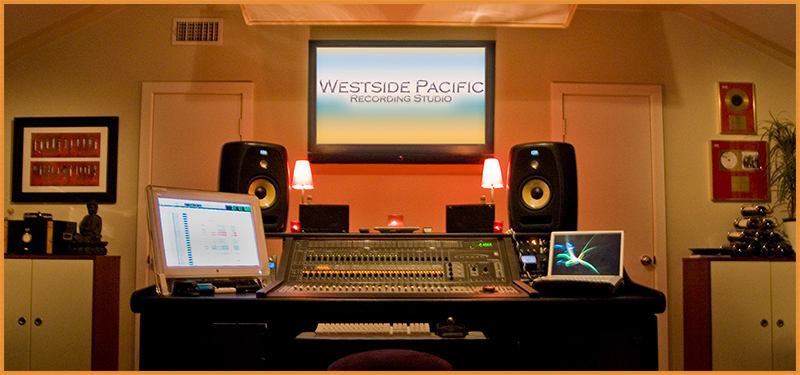 Console and Recording:
Digidesign Control 24
Pro Tools 7.3.1 HD|7 System
(2) 192 I/Os and Sync I/O
Apogee Big Ben Clock
Apogee Rosetta A/D Converters
Mac G5 Dual 2.5 Ghz PowerPc Processor
HHB CDR-830 Burn It
Mac G4 Dual 1.8 Ghz PowerPC Processor
(2) Mboxs with Pro Tools LE
Monitors:
KRK E8Bs
Audio Research Powered Partner 570 (Pair)
Samsung SyncMaster T240HD
Mac Cinema HD Display
Samsung 50" Plasma Screen
Outboard Gear:
(2) Brent Averill Neve 1084 Mic Pre/DIs
TC Electronic Gold Channel Mic Preamps
(2) Brent Averill Neve 1084 EQs
(16) Focusrite Mic Pres
Manley Stereo Variable Mu Limiter Compressor
E-MU Mo'Phatt Urban Dance Synth Module
Software:
Pro Tools HD 8.0cs3
Digidesign Music Production Toolkit
Sony "The Big Three" Bundle
Digidesign Massive Pack 4.0
Universal Audio Quad Pack
Waves SSL TDM Bundle
Serato Pitch N' Time
TC MasterX3 TDM
Revibe TDM
Line6 Echo Farm
Native Instruments KOMPLETE
Spectrasonics Atmosphere
Spectrasonics Stylus RMX
Spectrasonics Trilogy Bass Module
MOTU MachFive 2
PlugSoundPro
Addictive Drums
Antares Auto-Tune 5 TDM
Melodyne Studio
Microphones:
(2) AKG 414 Anniversary Editions
AKG Solidtube
AKG D112
B&K 4006
Audio Technica AT3035
(4) Sure SM57s
Sure SM58
(3) Seinheiser E604s
Whirlwind Hotbox DI